Artwork of rubbish still cool after 20 years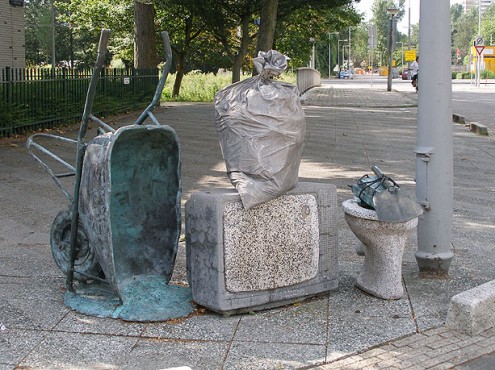 The bus I normally take to get around town currently takes a detour due to construction, which means getting off at a bus stop near the above cool bit of Amsterdam West street art.
Entitled 'Morgenster' ('Morning Star') created by visual artist Arjen Lancel in 1995, the artwork is located at the gates of the cleaning and maintenance department of the local district. The television and toilet are made of terrazzo, the bin bag of cast aluminium, and the broken wheelbarrow, shovel and wood of bronze. The street light ties the whole thing together because when you walk by the artwork for the first time, you think it's trash simply because it's next to a street light. As well, walking from the bus stop you'll see it from behind, which makes you wonder if it's not trash. And of course, at night, 'Morning Star' gets its own light.
(Link and photo: buitenbeeldinbeeld)