Dutch fishing boat scoops up a Lenin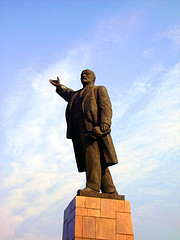 A Dutch fishing vessel from the island of Texel has caught a bust of Lenin in its net.
It's made from bronze and nobody knows why it ended up in the sea, but we can guess and make jokes.
One of the fisherman took it home to Den Oever, North Holland, a town adjacent to the 32-kilometre-long 'Afsluitdijk', a dike road that connects the province of North Holland to the province of Friesland.
Back in 2013 we told you about a 10-metre statue of Lenin hovering over downtown Assen, and here are some pictures of it.
(Link: www.rtvnh.nl, Photo of Lenin in Ukraine by covilha, some rights reserved)