Purmerend roundabout webcam makes top 25 list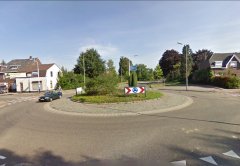 On a list that includes goats, elephants, a speedway and churches, the town of Purmerend has made EarthCam's list of 25 Most Interesting Webcams of 2015.
This summer, the Archie software company had set up a webcam on a roundabout to test its software. For the fans, the stream has moved here after having been watched elsewhere 1,463,240 times.
At night the roundabout has seen mediocre graffiti artists and witches, and who knows what else, watch the video.
(Links: www.rtvnh.nl, www.earthcam.com)