Cow films its own spring dance in the field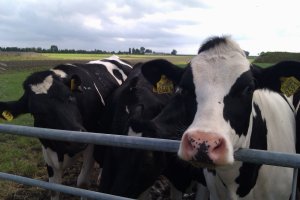 Watching the cows finally go outside in the spring is a great Dutch tradition, and now that tradition was taken to the next level with some fine bovine camera work.
Entitled 'it's Cow or Never', a play on words of the Elvis song 'It's Now or Never' (a cover of the old Neapolitan song O Sole Mio), you can pretend you're a dancing cow and watch yourself from above and below thanks to the power of editing and two GoPro cameras attached to a happy cow.
The cows come from a cheese far in Dronten, Flevoland. The farmer claims the cows were jealous of the cow with the new gadget, because the filming cow's cameras ended up in the mud after 15 min due to some head butting.
Check out the sniffing, nuzzling and head butts for yourself:
(Link: www.waarmaarraar.nl)
No Comments »
No comments yet.