Football fans duking it out with graffiti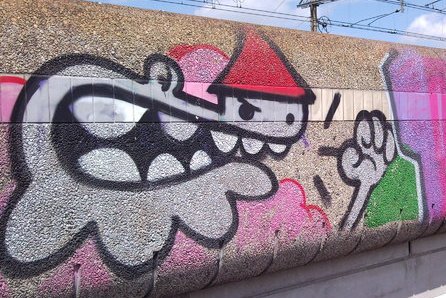 Fans of Rotterdam football club Feyenoord and fans of FC Utrecht are entangled in a graffiti competition that involves dissing each other using street art. This video shows Bokito eating an army of gnomes, and there's a whole bunch of other graffiti on film that was spotted in and around Rotterdam.
Another work of graffiti has Feyenoord Ollie, a spherical grey elephant, covering gnomes in pooh, apparently a response to some graffiti in Utrecht where a big Ollie is being attacked by an army of gnomes.
Bokito the gorilla made world news some years ago after attacking a woman at a zoo in Rotterdam, which seems fitting. The gnomes from Utrecht are drawn by KBTR, which sounds like 'kabouter', the Dutch word for gnome, many of which can be seen in Utrecht and in other parts of the country.
We used a KBTR picture only because last time we used a Bokito picture, we were almost sued out of existence.
(Link: www.rijnmond.nl, Photo by Aarnoot, some rights reserved)