Self-driving trucks in first-ever cross-border convoy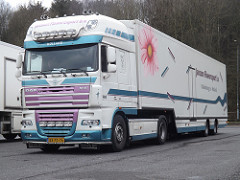 A small convoy of six self-driving trucks arrived in the Port of Rotterdam this week after an experiment organisers say will "revolutionise future road transport on Europe's busy highways". Some of the trucks in this convoy came from as far as Sweden and Southern Germany, and some of you may have even passed them without knowing it.
This 'truck platooning' involves two or three trucks that autonomously drive in a convoy, connected by wireless with the leading truck determining route and speed. It it is said to ensure cleaner and more efficient transport. Dutch Minister Melanie Schultz van Haegen also explains that self-driving vehicles contribute to road safety because most accidents are caused by human failure.
The trucks drive at a constant speed, maintain the same distance between them by braking at the same time, while standardisation will allow trucks from different companies to 'talk to each other'.
The Netherlands currently holds the EU presidency and plans to hold an informal summit in a few weeks to discuss changes to regulations needed to "make self-driving transport a reality."
(Link: phys.org, Photo of Dutch Daf & Flower Trailer by Lewis William Harris – Transport, some rights reserved)
No Comments »
No comments yet.