Dutch company prevents mass death of male chicks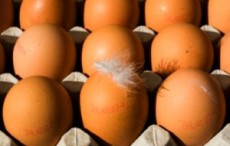 Dutch biotech start-up In Ovo from Leiden has perfected a large-scale technique for determining the sex of day-old chicks, which could soon end the practice of killing millions of male chicks in the Netherlands after eggs have hatched.
According to founders Wouter Bruins and Wil Stutterheim, In Ovo is the first company to be able to determine the gender of an unhatched egg in a matter of seconds, while other techniques for doing so, such as measuring the level of estrogen in the egg, takes four hours and is very expensive.
In Ovo has identified new substances that indicate the sex of an egg as early the ninth day of incubation. These substances are fast and quite easy to detect, according to Bruins. The technique has been tested at a Dutch hatchery, where the company was able to hatch roosters and hens separately on several occasions. The method is also fast enough to separate large amounts of eggs automatically, and so the first prototype for a sorting device is currently being developed.
The company's video explains that around the world 3.2 billion roosters are killed each year. Besides an incredible amount of animal suffering, determining the gender of chicks would mean hatching less eggs, which means lowering energy consumption and CO2 output.
No Comments »
No comments yet.