Dutch master has mobile phone in it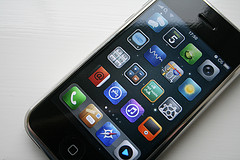 Apple's CEO Tim Cook has been working in Amsterdam this week, and he also decided to soak up some culture by visiting the Rijksmuseum with former European Commissioner Neelie Kroes.
Cook's eye fell on a painting from 1670 entitled 'Man handing a letter to a woman in the entrance hall of a house' by Pieter de Hooch, where the letter looks a bit like a mobile phone. Cook did think it was a Rembrandt because well, why not, and he also thought the letter looked like an iPhone, when it fact it looks more like a smaller type of mobile phone if you ask me.
Until January this year the Mauritshuis in The Hague had an exhibition entitled 'Dutch Self-Portraits – Selfies of the Golden Age, which definitely has a mobile phone quality to it.
(Link: www.at5, Photo by William Hook, some rights reserved)
1 Comment »
The little girl in the door to the left is bringing him the selfie stick!

Comment by Bill — May 26, 2016 @ 10:02 pm