Dutch dictionary wins top British design prize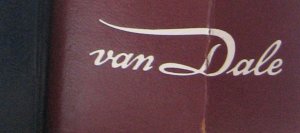 British advertising agency D&AD have recently announced this year's winners of their D&AD Pencil Awards for creative excellence in design and advertising, and the Netherlands nabbed seven awards this year, three less than last year. Studio Joost Grootens picked up a coveted Pencil award for the design of the new Dikke Van Dale, the "oldest and most extensive dictionary of the Dutch language".
The pearly white cover presents a major break with the familiar dark hues [dark blue, maroon, etc.] traditionally used by the publisher. This signals the current association between the pursuit of knowledge and our use of white and silver digital devices as the portals to information.
With Almost 5000 pages of knowledge and in its fifteenth edition, this year the Van Dale was also fitted with navigational elements such as colours, symbols and illustrations.
(Links: www.dandad.org-1, www.dandad.org-2)
No Comments »
No comments yet.