There's a Dutch rap song about Max Verstappen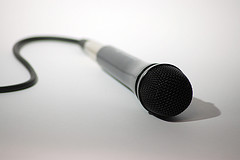 By now Formula 1 fans around the world have heard that Dutch-Belgian F1 driver Max Verstappen, the son of former Dutch F1 driver Jos Verstappen and former Belgian kart driver Sophie Kumpen, is the youngest winner of a Formula 1 race at age 18. According to Wikipedia, he's had a bunch of other firsts before that, but some firsts are more interesting than others.
What better way to celebrate than with a song, which is exactly what Dutch rap duo Dos Hermanos decided to do, inspired by Max Verstappen. Dos Hermanos from Haarlem are currently participating in a talent search show and their assignment was to write an 'anthem'. Apparently, they didn't have to think about it for very long. "There's one person who deserves an 'anthem' and could use one! That's why we chose the young hero Max Verstappen."
Even if you don't speak Dutch, every speaks F1 motor noises.
(Link: 1limburg.nl, Photo of Microphone by visual dichotomy, some rights reserved)
No Comments »
No comments yet.