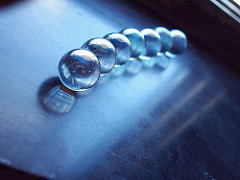 Dutch brothers Jelle and Dion Bakker build and present elaborate marble races on their hugely popular YouTube channel Jelle's Marble Runs.
Recently having lost their main sponsor, they tweeted out for help and fortunately for them it was John Oliver of American television show Last Week Tonight that answered their call. In the video below Olivier talks about them in a show on the current lack of sports. As Oliver said, remotely watching marbles duking it out is definitely something the world needs right now.
Not only has John Oliver given the brothers a huge boost, but will also donate 5000 US dollars to food banks and another 20,000 US dollars to an international help organisation 'International rescue committee' on behalf of winning teams. After having reached 1 million subscribers a few days ago, the brothers have announced that they are working on presenting a brand new tournament before the start of the Marble League 2020 on June 21.
The brothers are very close to joining the big leagues themselves as far as money goes. They're able to pay the folks who work for them properly, making them a serious outfit. The voice of the marble races is American sports fan Greg Woods. You'll notice that Marble Runs also use play on words of Formula 1 such as Marbula and F1 sounds with permission from F1 who are huge fans of the marbles as well.
Back in 2016 we told about what a 'marble tsunami' sounded like and I guess anything you watch on their channel will keep the entire family entertained these days.
(Link: nos.nl, Photo of Marbles by Meghana Kulkarni, some rights reserved)