Big anti-drone competition coming this winter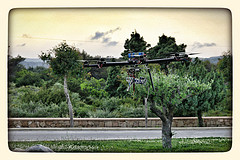 In December this year, Delft University of Technology will be hosting 'DroneClash', the first ever Dutch anti-drone competition. At this competition participants will use their own drones to take down as many other drones as possible and also avoid a series of anti-drone obstacles.
"Drones can fly into our lives, but we need to be able to take them out again if necessary", says Bart Remes of the TU Delft Micro Air Vehicle Lab. The goal of the competition is to generate new ideas for the drone and anti-drone industry. A year ago we also told you about the Dutch police training eagles to attack drones.
Watch the video and follow the link to sign up for DroneClash if that's your thing.
(Link: tudelft.nl, Photo of Drone by Karen Axelrad, some rights reserved)
No Comments »
No comments yet.