Noctural vlogging around the Circuit Park Zandvoort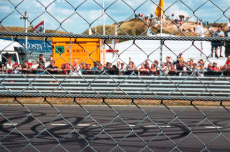 A while back we told you about a Dutch vlogger filming a creepy Belgian ghost tunnel, and now the trend of 'extreme vlogging' has produced a nocturnal romp around the Circuit Park Zandvoort located in the dunes of Zandvoort, North Holland near the North Sea.
Although Insetti and Mister D. of the No Guts, No Glory crew tells their viewers not to try this themselves, they show parts of the track to prove they're not just walking down an ordinary street. One of the vloggers kicks off the video by tearing his pants jumping the fence to get to the track. Oh, and there's a joke about skid marks, ha ha.
For the rest, calling this 'extreme vlogging' when it is just trespassing while filming is a bit much. The worse case scenario would be getting caught by the cops and paying a fine, right?
(Link: nhnieuws.nl)
No Comments »
No comments yet.