Riding a rented camel is weird, but still legal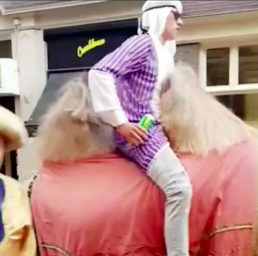 A few weeks ago, a stag do with a questionable desert theme got the media buzzing because the groom to be was riding a camel down crowded narrow streets in downtown Amsterdam.
Although it freaked out and amused people, the Party for the Animals was not amused and got the police involved claiming animal cruelty. Alderman Laurens Ivens responsible for animal welfare then said, "if this is not illegal, it should be" and basically had to look up what the rules are because he had no clue.
Back when the man was riding the camel, the police stopped him and the man renting the camel for unpaid bills, because the law allows renting animals. The police could have done nothing and not had any legal repercussions.
After Googling (!), Ivens found out that renting animals is perfectly legal and that the police got lucky by finding a reason to stop the man parading through town. Is it or is it not animal cruelty? Animals are rented all the time for shows, petting zoos and the likes, but this time it struck a nerve.
Up until 2008 it was still legal in the Netherlands to distribute animal porn, one of 24oranges' most viewed stories of all time.
(Links and photos: parool.nl-1, parool.nl-2)
No Comments »
No comments yet.