Renzo Piano's KPN Tower in Rotterdam gets expansion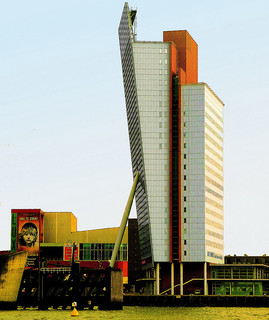 The leaning tower designed by Renzo Piano at the foot of Rotterdam's Erasmus bridge overlooking the Maas River was completed in 2000, and is now set to undergo extensive renovation and expansion as part of the company's relocation from The Hague to Rotterdam. The renovations will be led by Rotterdam firm V8 Architects, which has involved Piano in the decision-making process.
With a new 20 year lease agreement for the building, KPN have the opportunity to add further enhancements to what is already a distinctive building. The intention is to achieve this in a sustainable manner, creating viable future workplaces from existing offices in the country. The core of the project seeks to maintain the identity and integrity of the existing tower with interventions.
With construction underway, work on the KPN Tower's renovations is set to be completed by the end of 2017 when we can do a before and after kind of thing. The other notable Piano building in the Netherlands is the Nemo Science Centre in Amsterdam, built in 1997, which is also on the water.
(Link: archdaily.com, Photo of Rotterdam, KPN building by Roel Wijnants, some rights reserved)
No Comments »
No comments yet.