Second biggest yacht in the world sails by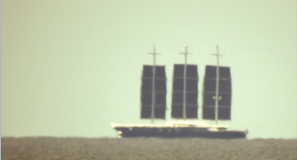 Off the coast of the Netherlands near Wijk aan Zee, North Holland someone has apparently spotted and filmed Dutch-built yacht Oceanco Y712, the second biggest sailing yacht ever-built in the world, which looks like a modern-day pirate ship when its sails are out. Someone also took a video of its maiden voyage last February in Hoek van Holland, South Holland, which has that pirate feel as well, thanks to the weather.
The Y712 is 106 metres long (or 105 metres depending on sources), and earlier this year was the biggest yacht ever built until it was surpassed by the Jubilee Y714, which looks very different and is 110 metres long, making it the biggest yacht ever built in the world.
The rumours were that someone super rich was taking the Y712 out for a spin, but nobody knows who that was. I can tell you that Oceanco's website is in English and in Russian, which gives you an idea of their clientele.
UPDATE: Now called the Black Pearl, the yacht belongs to a Russian man.
(Links and photo: bic-news, quotenet.nl)