Game of Thrones finale in cinemas for free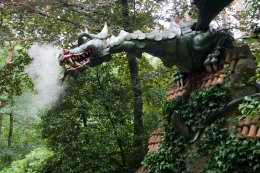 Good news for all the Game of Thrones fans in the Netherlands and a great idea for anybody who can set this up elsewhere: watching the season 7 finale of Game of Thrones on the big screen for free on Monday 28 August at 7pm CET.
Pathé theatres in Amsterdam, Rotterdam, The Hague, Groningen, Maastricht, Tilburg and Utrecht will have a glorious 81-minute viewing of the popular show. You'll need to reserve seats, something that's normal here for film tickets, knowing that other countries only sell tickets at the box office.
And it was some blogger's idea, not Pathé, which needed to be said. No spoilers on Sunday night please!
Read more: Dutch drone used in Game of Thrones and The Dutch connection in Game of Thrones.
(Link: metronieuws.nl, Photo: Photo of an Efteling dragon by Jeroen Kransen, some rights reserved)