Bringing back a truckload of beer crates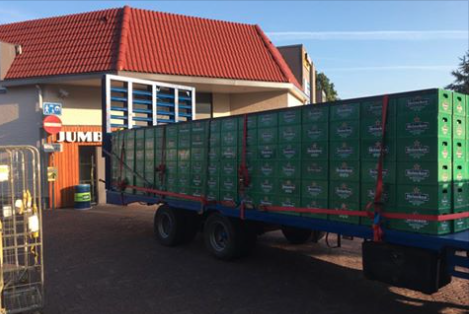 Students from the local beer joint in Dalfsen, Overijssel drove an entire truck full of empty plastic beer crates to the Jumbo supermarket to cash them in, about 1,000 in total. Beer crates and any bottles in them are worth 'packaging deposit money' ('statiegeld' in Dutch).
For three years, the beer joint saved up the crates and after deciding it was time to cash them in, they had to find a supermarket that was willing to do so. Other supermarkets turned them down, even Heineken turned them down, but the manager of the local Jumbo was ready to take the job on. It took four men to unload 869 beer crates with empties and 115 without, which instead of putting into the small bottle return machine were placed directly into the containers to go back to the breweries. The whole thing took two hours.
And how much deposit money did the students get back? A cool 3.620.14 euro, which may pay for a Jacuzzi and more beer, of course.
(Link and photo: ed.nl)