Dutch Golden Age humour still relevant today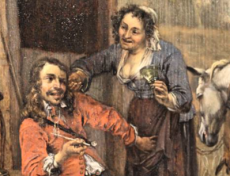 An exhibition at the Frans Hals Museum in Haarlem, North Holland entitled 'The Art of Laughter: Humour in the Golden Age' is presenting "the first ever overview of humour in seventeenth-century painting" until March 2018.
Trying to present a lighthearted view of the Golden Age means showing "naughty children, stupid peasants, foolish dandies and befuddled drunks, quack doctors, pimps, procuresses, lazy maids and lusty ladies".
And women being 'grabbed by the pussy'.
In a painting by Paulus Potter, who specialised in animals within landscapes painted from a low vantage point, his 'Resting rider before an inn' has a woman brushing the rider's face with her hand and in return he grabs her private parts all in good fun.
In the name of mischief, farce and love and lust, the Frans Hals Museum features works by Rembrandt, Frans Hals, Jan Steen, Judith Leyster, Adriaen Brouwer, Gerard van Honthorst, Jan Miense Molenaer and Nicolaes Maes.
The Museum explains that the writer Lodovico Guicciardini, who was living in the Low Countries at that time, said that the Dutch were 'very convivial, and above all jocular, amusing and comical with words, but sometimes too much.'
(Links: vice.com, franshalsmuseum.nl, Photo: nos.nl)