Looking back at Dutch cycling in 2017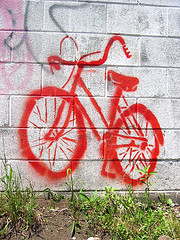 Here are some cycling stories for starters, then you can watch a proper main course of Dutch cycling ups and down through the Netherlands and beyond from Bicycle Dutch here below.
This fall saw the opening of the world's first printed bike bridge, made by the Dutch. Next, we had the success story of Amsterdam Central Station's shared space, also mentioned in the video below.
And there's a great one shot video with no editing whatsoever on a Canon Powershot (before mobiles had cameras) of my co-blogger and me getting ready to ride through Amsterdam with Christmas lights on our bike 11 years ago!
(Photo by Mike Porcenaluk, some rights reserved)