Personal computer museum to open in Helmond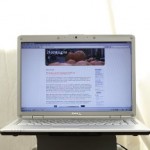 On 17 March, the Home Computer Museum in Helmond, Noord-Brabant will open its doors. At noon, visitors will be able to check out a collection of old personal computers, gaming computers and arcade games. There's also an arcade café, 1980s films, a repairs corner, and more.
Thanks to crowdfunding, founder Bart van den Akker was able to raise the money needed to launch the museum. The city of Helmond also pitched in 7,000 euro for start-up costs and even an annual amount of 3000 euro for the next three years.
(Link: ed.nl)
No Comments »
No comments yet.