Dutch orchestra gets first female conductor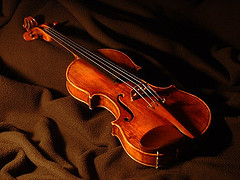 The Netherlands Radio Philharmonic Orchestra, which ranks third in the hierarchy behind the Concertgebouw and the Rotterdam Philharmonic, has just appointed its first ever female conductor, the American Karina Canellakis, 36, who will succeed German conductor Markus Stenz in September 2019.
Canellakis, the first woman music director of a major Dutch orchestra, made her debut at the Radio Philharmonic Orchestra in Utrecht and Amsterdam, with works from Britten, Shostakovich and Beethoven. In 2016 she won the Sir Georg Solti Conducting Award. Canellakis was also assistant to Dutch conductor Jaap van Zweden in Dallas and is being introduced to Dutch media as his protegée. She credits her first conducting opportunity to a stint at the Berlin Philharmonic Academy, when Sir Simon Rattle offered her the baton.
(Links: nu.nl, slippedisc.com, Photo of Carlo Antonio Testore violin, Milan, 1738 by Jason Hollinger, some rights reserved)
No Comments »
No comments yet.