Netherlands no longer in Top 10 LGBTI countries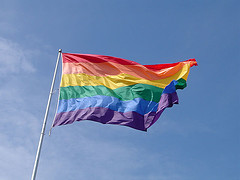 The Netherlands is no longer in the Top 10 of countries that have well regulated LGBTI rights, now sitting in eleventh place, according to the Rainbow Europe Index 2018.
One of the sticking points is not having any explicit inclusion in the law that says discriminating against transgender and intersex people is illegal. As well, Belgium is doing a better job, something that often provides a 'wake-up call' to the Dutch.
Malta is at the top of list, followed by Belgian in second place and Norway in third place.
(Link: parool.nl, Photo of Gay flag by sigmaration, some rights reserved)
No Comments »
No comments yet.