Reverse tower in Hilversum has more units on top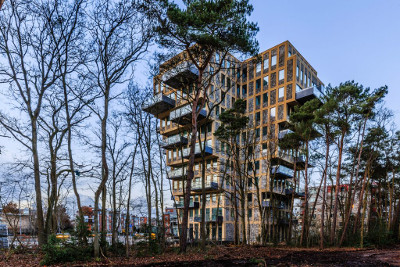 Dutch architect René van Zuuk of Almere, North Holland has completed an apartment building in Hilversum, North Holland called The Belvedere Tower, featuring top-heavy apartment blocks arranged in a cross.
A maximum building height of 11 storeys means that a conventional tower would have yielded only 44 units, whereas at least 55 units were required to make the project financially viable due to the high cost of land.
Hilversum is the Dutch media and broadcast centre of the country, and a lot of people want to live in this town that is not only kind of posh (they have their own special letter 'r' when they speak), but also close to Amsterdam.
Van Zuuk is known for having designed a property for himself in an experimental housing district in Almere featuring geometric volumes arranged less than a metre from the waterfront. Van Zuuk's studio also created the design of a fire station in Dordrecht, South Holland featuring an industrial material palette, and a pavilion down the street in Roosendaal that houses shops and offices under a series of timber terraces.
(Link and photo: dezeen.com)