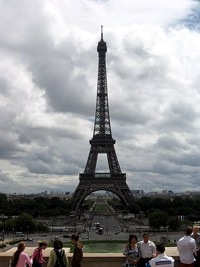 Why are there so few Dutch people working for Disneyland Paris? Besides French people, there are lots of Spanish and Italians, but very few Dutch speakers. Nicole Korssen from Eindhoven who works at Disneyland Paris explains that even though tons of Dutch people go to Disneyland on vacation, her employer's recruitment days just can't seem to close the deal. Disneyland Paris needs to have Dutch-speaking personnel seeing as they get about one million tourists from the Netherlands every year.
The first reason is that the Dutch don't speak French well enough, something I'm thinking the Spanish and Italian actually can do. We can blame the Dutch educational system for not teaching French to children anymore, and that's on the Netherlands. However, the lower salaries offered in certain positions, as compared to what the Dutch can make here doesn't help, so that one's on Disneyland.
And then there's the fact that the Dutch are generally too tall to be 'cast' as characters. Too tall to be cast as Donald Duck or Mickey Mouse at 1.50 metres or even a princess at 1.65 metres. A quick search tells me the average height of a Dutch man is about 1.80 metres, the tallest on the planet, while the average Dutch woman is 1.70 metres.
Why don't the Dutch get assistance in English when there's a problem? According to Korssen, the Dutch choose to wait longer to be helped in Dutch. Why don't they hire Flemish people who generally do speak some French and get paid less than the Dutch anyway? I don't know, but I'm going to assume Disney would rather have actual Dutch people.
Dutch astronaut André Kuijpers does voice-over work for Disney.
(Link: businessinsider.nl)
Tags: amusement park, Disneyland, Dutch, France, French, language