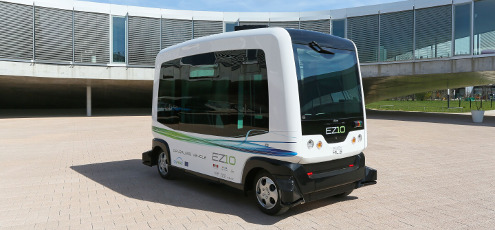 The province of Gelderland will try to achieve a world first in May 2016 when it hopes to run a shuttle service on public roads using self-driven vehicles.
The vehicles are called Wepods and should drive guests of the University of Wageningen from the nearby rail station of Ede-Wageningen to the university and back. Currently however the vehicle laws of the Netherlands don't allow self-driven cars on the road. The province hopes to convince the relevant ministries during a demonstration in October. The first Wepod, produced by Ligier in France, was delivered in June.
Rotterdam was the first city in the Netherlands allowing self-driven vehicles on its territory. The Rivium shuttle bus however does not mix with other traffic and has its own road — it operates a bit like a train without the rails.
(Link: Smart Driving; photo: Wepod.nl)