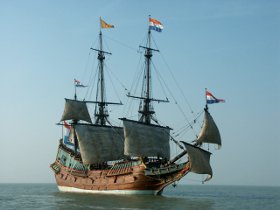 Last Wednesday the Dutch and Australian governments signed an agreement on how to give Australia the Dutch half of the ANCODS collection, which contains the salvage of four Dutch ships that sank near the Australian coast in the 17th and 18th century.
The agreement to give Australia the Dutch portion of the artefacts had already been taken in 2006, Flevocourant writes.
According to a press release (PDF, 2009) by the ministry of foreign affairs the collections of the Batavia (1629), Vergulde Draeck (1656), Zuytdorp (1712) and the Zeewyk (1727) "include bricks, building blocks, lead ingots, elephant tusk, canon, canon balls, amber and pitch as well as rare objects owned by crew and passengers such as navigational instruments and ornaments".
"Rather than dividing objects between the two countries, they will be kept as close as possible to the shipwrecks where they have been excavated. This is why the Netherlands has agreed to entrust Australia with safeguarding the objects, which are currently in Dutch possession."
The agreement was signed aboard a replica of the Batavia which is stationed in Lelystad.
(Photo of the Batavia replica by Wikimedia user ADZee who released it to the public domain)
Tags: Australia, Batavia, Golden Age, Lelystad, treasures