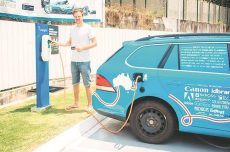 Dutchman Wiebe Wakker took a big long drive in his electric car all the way to Australia. Called 'Plug me in, an electric trip to Australia', his journey will bring him from Amsterdam to Sydney. Wakker left on 15 March 2016 (yes, 2016) in a car called 'the Blue Bandit' without any money and relying on the kindness of people.
Throughout the journey Wakker engages with organisations, people and initiatives active in the field of sustainability to learn about the environmental challenges in the countries he visits and sees what solutions are available to tackle the climate problem.
It took Wakker 827 days to reach the city of Darwin, which he reached in June 2018, and four days ago, he reached Brisbane after driving for 991 days. "I crossed 33 countries on my way, reached the other side of the world, driving 84,000 km without visiting a single petrol station on the way."
Wakker claims he has become the first person to cross Turkey, Iran, India, Myanmar, Malaysia and Indonesia in a fully electric, battery-powered vehicle, surpassing the current Guinness World Record of the 'longest distance covered in an electric vehicle (non-solar)' of 22,000 km. This, of course, will be reviewed and announced at some point and we'll be glad to write about it.
And his trip hasn't ended yet, as he is still 921 km away from Sydney.
The only thing that might irk, is the fact that he has been 'relying on the kindness of strangers' for years, which is probably an easy thing to do in his case as a Western man, but might be seen with some contempt, considering he comes from a rich country and can apparently afford his trip.
(Link and photo: financialexpress.com)
Tags: Australia, electric cars