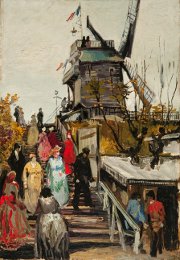 Steven Naifeh and Gregory White Smith just published a new biography of Vincent van Gogh in which they claim that the Dutch 19th century painter did not shoot himself, as is generally believed.
[The authors] say that, contrary to popular belief, it was more likely he was shot accidentally by two boys he knew who had "a malfunctioning gun".

The authors came to their conclusion after 10 years of study with more than 20 translators and researchers.

[…] [Stephen Naifeh] said that renowned art historian John Rewald had recorded that version of events when he visited Auvers in the 1930s and other details were found that corroborated the theory.

They include the assertion that the bullet entered Van Gogh's upper abdomen from an oblique angle – not straight on as might be expected from a suicide.
Last Monday the Van Gogh Museum launched a biographical app on the life of the painter that presumably does not include this fresh light on his life and death. Museum manager Frank van den Eijnden nevertheless sees the book's publication as a positive development according to De Pers: "Because of the news, the app is more current than ever."
Earlier today the museum's conservator, Leo Jansen, called the new theory about Van Gogh's death insufficiently supported by the evidence: "Many questions remain unanswered." Nevertheless he feels the authors—for which he reviewed a first draft—did a good job: "They looked at everything that was already known, and came up with many new insights and connections."
(Illustration: the Van Gogh that was 'discovered' last year)