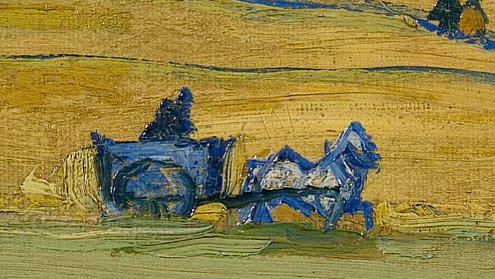 Would you like to own a 'real' Van Gogh without either risking bankruptcy or an entry in Interpol's 'most wanted' list?
The Van Gogh Museum in Amsterdam comes to the rescue. In 2013 the museum started a collaboration with Fujifilm to 3D print copies of famous Vincent van Gogh paintings that are said to be indistinguishable from the originals when viewed with the naked eye.
Every brush stroke is copied in these replicas (called Relievos) which go for about 25,000 euro each. Art historian Ko van Dun saw one last week and reports:
The copy is so good that it is indistinguishable from the original. Not nearly distinguishable, not even a little, just not at all. Yesterday I stood in front of one, an experience which left me flabbergasted. You are for all intents and purposes looking at a true Van Gogh – in my case The Harvest from 1888, one of the painter's most famous works – with the exact same colours as the original, the exact same highlights, relief, everything.

So far [the museum has failed to] find customers, but that would seem to be a matter of time.
The possibilities of this technology boggle the mind. Van Gogh Museum hints at some of them when it alludes to its "mission to inspire and enrich as large an audience as possible". In other words, next time you stand in front of a Van Gogh, it might not even be the original.
You can see some of the technology behind the 3D scans in this YouTube video.
(Link: Trendbeheer; illustration: extreme close-up of The Harvest via Van Gogh Museum)