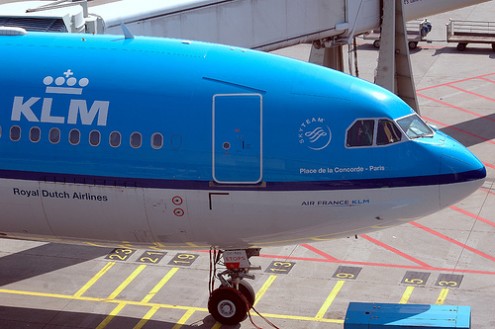 KLM is getting bashed on social media for having asked the mother of a newborn to cover up while breastfeeding on a flight from Amsterdam to San Francisco. The mother explained to the stewardess who had asked her to cover up that her daughter did not like having a blanket over her, but the stewardess said that it was important to consider other people's feelings.
"Breastfeeding is permitted at KLM flights. However, to ensure that all our passengers of all backgrounds feel comfortable on board, we may request a mother to cover herself while breastfeeding, should other passengers be offended by this."
Feeding your child is offensive because, well, boobs. Boobs' primary use are to feed babies last time I heard.
Once the mother told everyone online that people should not fly with KLM, the airline receive thousands of reactions from outraged folks. Parool newspaper also explains that women showing a lot of cleavage apparently are also asked to cover up with a blanket because clients (who, and really?) complain about, well, boobs performing their secondary function: being boobs.
Funny replies include handing out eye masks for people bothered by human feeding humans.
(Link: parool.nl, Photo of KLM A330-200 by caribb, some rights reserved)