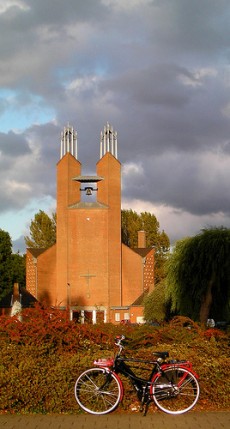 A bit of a buffoon at home if we believe the media and quick to call Amsterdam 'sleazy' as the Mayor of Amsterdam and King Willem-Alexander were visiting London (which was nice), the Mayor of London Boris Johnson has no qualms about calling upon Dutch business expertise from Amersfoort to build proper bike paths so that cycling in London becomes safe for all road users.
London's bike paths are found on busy roads and are dangerous, as London Cyclist points out and has filmed during a ride. The goal is to build bike paths in London along quieter roads, parks and the likes, a bit like we do in the Netherlands.
Cycling in major Dutch cities feels quite safe to me, but the zooming scooters, mobile using morons and inattentive tourists make it a bit stressful. However, it's nothing compared to this video that I find difficult to watch.
And Johnson, the biggest tourist nuisance as of late in Amsterdam are British stag and hen parties. Mayor Eberhard van der Laan invited you to check out how your fellow Brits behave in his 'sleazy' city, so what's the hold up?
(Link: www.z24.nl, Photo of Kruiskerk, Amstelveen by Drooder Fiets)