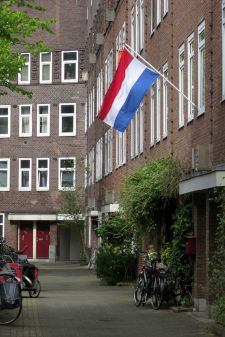 Yesterday King's Day was the wettest in over 60 years.
With 8.9 millimeters of precipitation, only 1955 was rainier (9.6 millimetres), Parool reports.
Perhaps as a result King's Day was otherwise uneventful, the papers say. Last year's 'disaster', when beer ran out in the country's capital, Amsterdam, was averted this year by readying more kegs.
The royal family visited Amersfoort, which joined in the uneventful trend by giving an undistinguished presentation, NRC writes. The organiser of the city's festivities, Yordi Grutters, told the paper: "we are an average city with an average population."
The paper adds that this was crown-princess Amalia's day. For the first time ever, she gave interviews without her sisters to national broadcasters RTL and SBS. "It feels sometimes unreal that this is my life," the princess said. I wonder how she knows.
Since the king's inauguration in 2013, we haven't had a King's Day that wasn't either cold or wet.
Tags: Amersfoort, King's Day, Princess Amalia