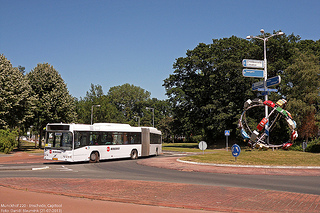 Shandrick Elodia, the 'most amusing bus driver of the Netherlands' from Enschede was sacked recently for safety reasons. By sacked, I mean not rostered anymore to work, as he didn't have a permanent contract.
"Are you ready for the ride of your life?", he would ask depressed passengers and then chat on the microphone and play music like Nirvana's 'Smells Like Teen Spirit' and Tom Jones' 'It's Not Unusual'. Everybody loved this guy, but he was way too much for his employer.
At some point, Elodia needed something more challenging and wanted to do something about all those sad faces boarding his bus. He once startled an old lady by wishing her a nice evening on the microphone and kept going from there.
Sure, Elodia should have followed the rules (only greeting people) and just done his job or quit and find something else — he is the first to admit that. Elodia has a degree in industrial design, and according to him, his global vision of 'making poverty cool' ended up spilling over into his work as a bus driver. "When you're poor, you have to make due with rubbish products. When I drive up in my happy bus next to some guy in an expensive Mercedes, he sees how much fun the 'poorer' people are having and wishes he was in my bus."
Since Elodia has been on television (in Dutch), work offers have been pouring in.
(Links: www.nrc.nl, www.nieuws.nl, Photo of Bus in Enschede by Daniël Bleumink, some rights reserved)