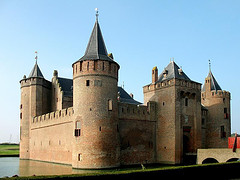 Sometime around 2013, Amsterdam's city marketing people decided to rebrand 'Muiderslot' ('Muiden Castle') to 'Amsterdam Castle Muiderslot' to attract more tourists because they believe that if you put the word 'Amsterdam' in front of something, cash register sounds start ringing in your head, like a pleasant form of tinnitus. Maybe the name sounds close by or more fun, who knows. Muiderslot is in the town of Muiden now under the same municipality as Naarden (their beautiful fortress doesn't need rebranding) and Bussum, also known as 'not Amsterdam'.
Pseudo annexation of interesting tourist venues that are not Amsterdam remains awkward. Nobody calls the coastal cities of IJmuiden, Bloemendaal and Zandvoort 'Amsterdam Beach' but the city marketing people who thought that nonsense up. However, bus company Connexxion's line 80 that goes to Zandvoort is being rebranded as the 'Amsterdam Beach Line' possibly because Amsterdam only has fake beaches and Connexxion hooked them up with a real one.
Also having jumped on the bandwagon apparently is the lake area between Amsterdam and Utrecht called 'Loosdrechtse Plassen', which is now the 'Leisure Lakes' (nope, not a direct translation), which sounds like a floating red light district. And there's always the 'Bulb Region' closer to Haarlem that magically became the 'Amsterdam Flower Strip' also not used by anyone except the voices in someone's head in charge of city marketing.
Picture a map of Amsterdam with everything around called 'not Amsterdam'. In fact, many people would agree that's how a lot of Amsterdam residents and unfortunately millions of tourists view the rest of the country.
In the spirit of ridiculous name changes, here are some other suggestions:
Cities close to Amsterdam like Amstelveen, Badhoeverdorp and Diemen that house a lot of expats (read: rich immigrants and migrants) should be called 'Almost Amsterdam', Amsterdam Airport Suites' or just 'Amsterdam's suburbs' and have their official names removed to cause less confusion.
The huge-ass flats in Amsterdam Zuidoost, which is its own district, could be rebranded as 'Amsterdam Heights' to have an excuse to hike up the rent of lesser wanted immigrants and migrants by sounding fancier.
Any other interesting towns like Zaandam, Haarlem and Abcoude better watch out before they get 'Amsterdamized' as well.
(Link: at5.nl, Photo of Muiderslot Castle by Coanri/Rita, some rights reserved)