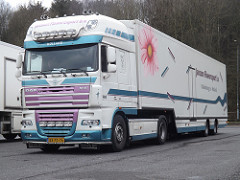 The Netherlands has debuted self-driving trucks in a convoy, but this week a self-driving bus went from Schiphol Airport to Haarlem, a 20-kilometre ride.
The test was carried out with a self-driving Mercedes-Benz bus from German car company Daimler AG, some of which took place on a public road, but mostly on a closed circuit. The bus was able to communicate with traffic lights, collect data and negotiate junctions. As well, there was a driver on board in case things when wrong.
There is still a lot of testing to be done before self-driving cars become a reality, and it is cool that tests are carried out here. I don't know about cars dealing with cyclists and pedestrians in the big cities, which still is a major source of accidents.
(Links: www.automatiseringgids.nl, www.zdnet.com, Photo of Dutch Daf & Flower Trailer by Lewis William Harris – Transport, some rights reserved)