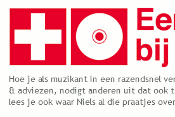 After blogging for five years Niels Aalberts, the former manager of Kyteman's Hiphop Orkest, will discontinue his popular blog for musicians, Eerste Hulp Bij Plaatopnamen or EHPO.
Aalberts feels he has said what he had to say and that his blog has run its course: "What I dreamed about five years ago has now become reality. Beginning musicians can do many things themselves, professionally, quickly and cheaply. […] What I tried to do with EHPO is done. I am sure to return to blogging, but in a different way and about different subjects."
EHPO told musicians how to use social media, how to deal with contracts, what venues there are to sell music and so on. Aalberts also let producers and marketers from major Dutch acts use his site to tell their story. Both David Schreurs of Caro Emerald and Fulco Polderman of Marco Borsato used the site to explain how they marketed their respective acts.
The name is a pun and literally means First Aid For Music Recordings. The Dutch phrase for 'first aid' is 'eerste hulp bij ongevallen' and is abbreviated as EHBO.
See also:
(Link: Jeroen Mirck)