Biggest pop artists work outside traditional record company structures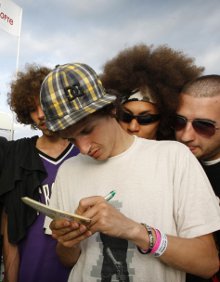 The past week Kyteman manager Niels Aalberts has been posting and annotating a six part e-mail correspondence with Caro Emerald producer David Schreurs about how they got to their respective successes.
One of the most remarkable ideas in the stories of both Kyteman and Caro Emerald as noted by internet marketeer Erwin Blom is the one of developing success outside the framework of traditional record companies. Schreurs mentions that this makes it easier to make quick decisions (you don't have to keep track of everybody's agendas), and that since your money is not disappearing into the deep pockets of the share holders of the likes of Sony, you can allocate resources for expensive projects more easily.
Kyteman is young jazz musician Colin Bender's project, a hip hop orchestra containing 12 instrumentalists and 10 MCs. Their debut album The Hermit Sessions (2009) has been in the Dutch Album Top 100 for the past 79 weeks, and has sold 60,000 copies so far. Earlier this year the orchestra won the Popprijs.
Caro Emerald (Caroline van der Leeuw) is a jazz singer whose A Night Like This shot to the top of the charts, and whose album Deleted Scenes from the Cutting Room Floor easily took over the record for most weeks at number 1 in the Dutch Album Top 100 (30 and counting)—the previous record was held by Michael Jackson's Thriller (27 in 1982). In the second quarter of this year, Deleted Scenes accounted for 10% of all album sales in the Netherlands.
(Photo of Kyteman and a smattering of his MCs by Oxfam Novib, some rights reserved)