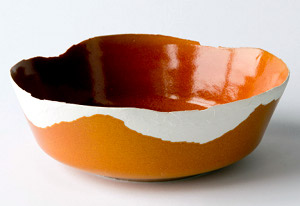 For anyone like me who usually finds ceramics dull, Dutch designer Floris Wubben of Eindhoven has found a way of making ceramics cool. He created a rotating flame-throwing device that makes exciting textures on his ceramic pieces.
A wet ceramic piece is placed on a rotating central stand, where an adjustable semicircular arm holds a blowtorch. The blowtorch then applies a flame directly to object's surface, creating all kinds of patterns.
Wubben is able to control the flame, the distance and the speed at which the blowtorch hits a ceramic piece, creating cooler patterns than you'd normally see on ceramics. Wubben has produced bowls, pots and cups with different glazes in collaboration with Cor Unum ceramics studio of Den Bosch, Noord-Brabant.
(Link and photo: www.dezeen.com)