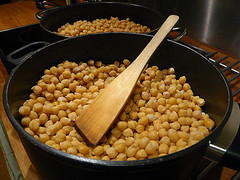 Even though Dutch-British food giant Unilever had dropped its case against American vegan mayo maker Hampton Creek for its eggless mayonnaise Just Mayo, the American Food and Drug Administration (FDA) has ruled that Just Mayo is not mayonnaise and is not 'healthy for your heart', either.
Mayonnaise has to contain eggs, so Just Mayo needs to change its name and probably its logo currently featuring an egg on it. As well, Just Mayo claims to be 'healthy for your heart', but apparently it's mostly fat: a 14 g serving (one tablespoon) contains 90 calories, 75% of which is fat. In comparison a 13 g serving (one tablespoon) of Unilever's Hellman's Real Mayonnaise has 90 calories, 100% of which is fat, but doesn't claim to be a good choice. The definition of tablespoon is still used in many countries and fluctuates, making calorie counting a pain.
Instead of Unilever getting bad publicity for bullying vegans and spending money to attack Hampton Creek, the FDA did their work for them.
(Link: nos.nl, Photo of Chick peas by abrunvoll, some rights reserved)
Tags: eggs, law suit, mayonnaise, vegan, veganism