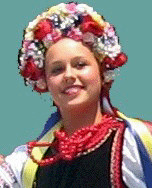 Last summer we told you about a new law that allowed Dutch citizens to call for a non-binding referendum, in this case to veto Ukraine's entry to the European Union. On 6 April, the Dutch will vote on a non-binding referendum on the EU-Ukraine Association Agreement, a vote and campaign that happens to fall at the same time as the Dutch presidency of the European Union — as if they didn't have enough on their plate already.
One things the Dutch Party for the Animals doesn't want on their plate is chicken, so they're encouraging people to vote 'no' in the video below. One of the baddies happens to be one of the world's biggest producer of broiler chickens for starters. As well, a lot of people throw around the word 'oligarch' without knowing what it means, now you can learn more about it and hear how horrible it sounds in Dutch.
"According to Transparency International Ukraine is the most corrupt country in Europe. Ukraine is ruled by oligarchs. Take Myronivsky Hliboproduct (MHP): it is one of the biggest poultry producers in the world and annually slaughters 332 million chickens."
Long story short, billionaire Yuriy Kosiuk owns it, puts his money in tax havens in Luxembourg and Cyprus, is friends with President Poroshenko and has his fingers in way too many pies. The Dutch Party for the Animals considers him and the Ukrainian government corrupt, and wouldn't be totally wrong in saying so. MHP's motto is "if you want something done well, do it yourself", and that seems to include bullying the government.
Ukraine has always been the doormat doorway to Russia, stuck between maintaining old Soviet relations and sucking up to the European Union. The people of Ukraine are the real losers of any deal, chickens and all.
Dutch companies have a reputation of trashing Ukraine using gross stereotypes like they did during the Euro 2012, which makes any normal dialogue unproductive.
(Links: dearkitty1.wordpress.com, gianalytics.org, european-times.com, Photo of Ukranian woman by my3colors, some rights reserved)
Tags: animal welfare, chickens, corruption, Ukraine