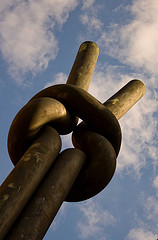 Sculptor Shinkichi Tajiri died a Dutchman in his home town of Baarlo in Limburg last Saturday, reports NOS Journaal (Dutch). The artist of Japanese-American descent who escaped the WWII concentration camps in the US by joining the army, left for Europe in 1948, disgusted that even a decorated hero like him was still considered just a Jap in his own country. However, he never renounced his nationality, feeling that he could only rightfully criticize America as an American. For most of his life he lived in Baarlo, Limburg, where he befriended my parents, and where last year he finally obtained Dutch citizenship.
Tajiri is perhaps best known for his large statues of knots, but one of my earliest memories were paintings and drawings of fantastic contraptions that could either be guns or cameras, preparing me for what nowadays is called steampunk. Sketches for some of these drawings can be found on Tajiri's website under Drawings 1963 – 1968.
In his later years, Tajiri returned to these violent images, and a few years ago, he built four metal guardians that watch over the bridge between Blerick and Venlo, my birth town. Kunst in de Regio has a well illustrated story (Dutch) about the building of these statues.
To Ogendicht he explained his art (Dutch):
My warriors are attempts to suppress those fears, to cast off demons and to deal with nightmares. Only a small part of the 442 Regimental Combat Team, of which I was a part, survived the war. Many talented young people died on the battlefield, sometimes right next to me. That affected me deeply, along with the shootings, explosions and bayonet fights. For the past 60 years I have tried to provide shape to the psychological scars that all these impressive experiences have left.
Photo of a Tajiri knot by Marja van Bochove, some rights reserved.