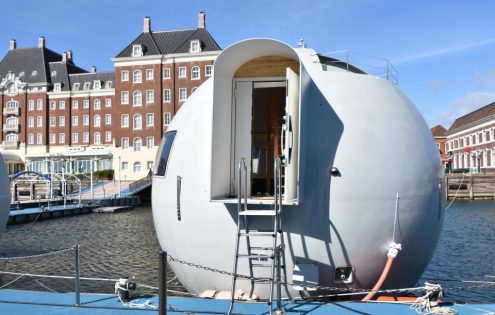 Huis ten Bosch (Hausu Ten Bosu) is a theme park near Nagasaki, Japan that is apparently more than three times the size of Tokyo Disneyland and still bigger than Tokyo Disneyland and DisneySea combined. Its theme is The Netherlands – all of it – and many of the famous buildings of the Netherlands have 1:1 replicas.
The Dutch-themed attraction park will be launching a floating capsule that can accommodate two or three people, with its the floor designed as an accommodation cabin and the second floor as an observation dome. The service is due to start this summer. The company plans to have a ship tow the hotel between the theme park and a nearby island.
And yes, it's giving me a strong James Bond vibe, if you remember the final scene of The Spy Who Loved Me and the floating rescue pod that just happens to have Dom Pérignon 1952 champagne on ice.
(Link and photo: english.kyodonews.net)