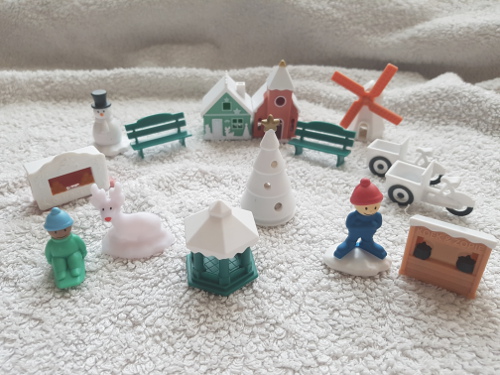 We've been busy this year to the point of having a tough time posting this fall, but we should be back on top of things for 2020. It is Christmas day as I write this, and the plan is to eat Italian food, drink, listen to Christmas music and play with the little houses above, courtesy of a supermarket chain that has been handing them out.
Although many people complained about the plastic, after work on December 24 I was handed an entire box of these houses (the special offer was over) and could not resist taking as many home as I could. I decided to make a traditional Dutch winter scene for you, complete with an 'oliebollen' stand, a food usually eaten on New Year's Eve, and 'koek en zopie', cake and a hot beverage with alcohol usually enjoyed after ice skating. It's not winter at all here in Amsterdam, it's 9 degrees!
As always, co-blogger Branko is working on his list of favourite stories of 2019, which should be online before the year is out.
Thanks to everyone for reading us and sharing the weird and fun news of 24oranges, and Happy Holidays!
Tags: Christmas, Dutch Christmas