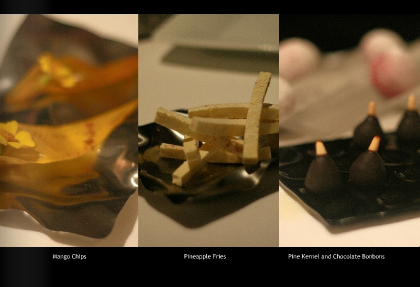 American Dutch, soon to be professional photographer Lori Lens-Fitzgerald published an online photo book about her very special visit in April 2008 to the world's top restaurant (out of 50), El Bulli in Roses, Spain.
As Lori explains, "every year 2,000,000 people request reservations and only 8,000 people get them. One of my friends was lucky and had two extra spots. I took photos of every course (American tourist that I am!) and made a book."
El Bulli is a three-star Michelin restaurant, run by Catalonian chef Ferran Adrià . It is mainly known for its 'molecular gastronomy', a mix of ingredients that you'd never imagine in your wildest dreams and a whole row of small dishes (25 to 30), with instructions on how to to eat them.
(Photo: Lori Lens-Fitgerald)
Tags: cooking, El Bulli, gastronomy