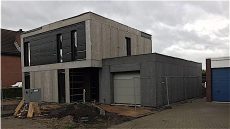 The small village of Abbenes, North Holland is home to the very first enery-neutral pop-up house in the country, based on a design from the company Pop-Up House that hails from Marseille, France.
Claiming to make passive construction easy, the idea is to build homes that are not only affordable, but also free of energy costs, in this case, natural gas. I specify 'natural gas' because electricity is not considered an energy cost for most people around the world, but I come from Québec, Canada where about 90 of heating is generated from electricity, with natural gas as a back-up during winters like the one they're having right now.
"A passive house is a building which has limited heat loss and takes advantage of natural factors in its direct environment (bio-climatic design). A passive house's energy consumption is very low and thermal indoor comfort is ensured all year long." To me, this sounds great in a part of the world that barely sees a minus on the thermometer.
This Lego-like house (see video) also costs 80 per cent less than a 'normal' house and can be built much faster, in about five months, according to Pop-Up House.
Pop-Up House: the affordable passive house from Popup House on Vimeo.
(Link and photo: bright.nl)
Tags: energy efficiency, France, houses, North Holland