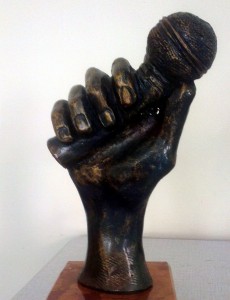 Dutch magazine Quote's list of 15 richest Dutch artists are all men, and with the exception of Afrojack having one Surinamese parent, they are all white. Six of them are DJs, five of them are Dutch-language singers, two of which are gay (one of them is a bit racist). The rest of these artists work in the classic music industry, with one in popular music.
The kicker is explaining the success factor of these artists, according to ING bank economist Marten van Garderen. "An important success factor is having good role models to follow. The world's best football players like Messi and Neymar inspire children to play football. It's like that as well in the world of dance music. Children grow up with Tiësto and want to be like him".
Girls need role models as well, but this economist painfully points out that they are none at the top of the entertainment business in this country. Girls don't usually grow up or aspire to be male professional football players, dude. Basically Van Garderen has confirmed to half the country's population that girls have no role models to follow and because of it won't make this list any time soon. That also goes for anyone who's not white apparently.
15. Jaap van Zweden (conductor)
14. John Ewbank (composer)
13. Gordon (singer)
12. Ferry Corsten (DJ)
11. Hardwell (DJ)
10. Gerard Joling (singer)
9. René Froger (singer)
8. Jan Smit (singer)
7. Martin Garrix (DJ)
6. Afrojack (DJ)
5. Frans Bauer (singer)
4. Wessel van Diepen (radio host)
3. André Rieu (conductor)
2. Armin van Buuren (DJ)
1. Tiësto (DJ)
Last year, Quote's top 15 was ever so slightly more diverse, while the first woman at 21 was paired up with a man. Quote's 2015 list of Richest Women on Earth basically says women luck out with a good marriage or an inheritance in a tone that implies that's all they can do.
(Link: deondernemer.nl)