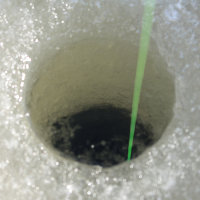 Last Thursday Kuinre, Flevoland played host to the first edition of the Dutch ice fishing championship. Some 25 participants had two hours to reel in a catch, but in the end, not a single fish was caught.
Ed Piek of the Visfederatie Oost Nederland told Spitsnieuws that he did not know why nobody caught anything. "Maybe the lack of experience? Also the ice was very clear, which could have scared off the fish."
The news site adds that the prizes, a mountain bike and a trophy, will be saved for the next edition.
For photos of the event, see here.
"Today the fish won," Piek said. Sounds like the fish are not off the hook yet.
(Photo by Jani Uusitalo, some rights reserved)
Tags: fish, fishers, fishes, fishing, Flevoland, ice fishing