Wiel Kuypers breaks fishing record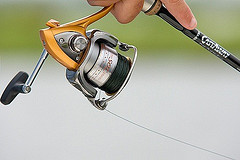 Yesterday Wiel Kuypers set the new world endurance record for recreational fishing at 160 hours.
Kuypers had started the Sunday before at fishing pond De Bus of his home town Mill in Noord-Brabant with his daughter Marjolein and his son-in-law Rick who both quit their attempts during the week. According to Omroep Brabant, an inflammation in Kuyper's foot nearly threatened a happy end to the record attempt on Friday night.
The old record was set at 157 hours by Jan van de Bovenkamp in 1987, Sportvisserij Nederland writes.
After his successful attempt Kuypers went home to catch some sleep. He and his buddies had made plans to get up bright and early today, to go fishing. "By now I am pretty sure I know how to."
(Photo of the completely wrong kind of rod by Qrodo Photos, some rights reserved)
No Comments »
No comments yet.