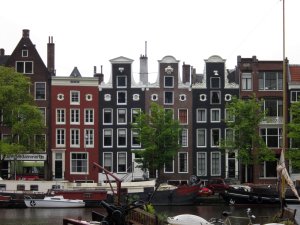 Dutch television news show EenVandaag gave me a new reason to be scared to ever buy a house in the Netherlands. Since 10 February 2010 Dutch banks have decided not to approve any mortgages to people buying a house built on ground owned by a private person. This means that some 125,000 home owners are now stuck in their homes forever, unless they leave it empty and move, or rent it.
Homes in the Netherlands are often built on ground that is leased from someone else, usually a local government or a housing corporation, a very common practice in big cities like Amsterdam. In fact, real estate agents in Amsterdam, where most homes are built on leased ground albeit owned by the city, are now refusing to sell any houses built on ground owned by private persons.
Why would banks pull this? Acccording to De Telegraaf, the regulatory body of Dutch banks has a duty to assess the risk of the loan, and find it too difficult when the ground is privately owned. The legislation on ground leasing is said to be "complete chaos" and deals with "forced contracts" (I like the Dutch 'wurgcontract', which literally means 'strangulatory contract'). These private ground owners are basically mimicking the government who also ask for "mafia-like amounts" when ground leasing. Fighting the government for unfair practices is one thing, but you can't do that with a private person who can apparently do what they want.